Welcome!

Having a premature baby can be a lonely and frightening experience. In our communities there may be very few people who understand the specific problems that parents of babies born very early face.

Sometimes our babies are transferred to hospitals far from home and this can make us feel even more alienated and lost.

Finding your way around...

Feel free to explore all areas of the Austprem website. Below are some brief details about what you will find where:

The Prem Journey
This section covers information about many aspects of prematurity, from pregnancy and some of the causes of early arrivals and the hospital experience, to going home and seeing our prems grow and develop. You will find heaps of information and personal stories covering a range of experiences and outcomes

Austprem Ink Newsletter
Austprem Ink is our quarterly newsletter. Each issue contains a wealth of information on a selected topic. There is an index so that you can easily find the information you are after.

Links
You will find links to various other prematurity and parenting websites. Many links are also included in the relevant sections of "The Prem Journey".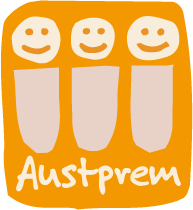 © Austprem Inc. All rights reserved
website: www.austprem.org.au
email: austprem@austprem.org.au
ABN 67 731 996 316