Austprem is proudly supported by:


Purchase an Austprem Cooler bag
for transporting your milk, snacks and lunches more info...
BUY NOW

How can I help?

Austprem Inc. is a non-profit organisation, staffed only by volunteers. We appreciate donations and sponsorships and are happy to discuss ideas with both businesses and individuals. All donations are used to help Austprem provide support to the families of prematurely born babies and children.

If you have any questions about where your money goes, how Austprem is run, or anything else, please contact austprem@austprem.org.au.

There are a number of ways you can support Austprem.

Online Shop

Purchase items through the Austprem BORN EARLY Online Shop
Items available include books, Cooler Bags, awareness ribbons and Blankie Squares

Ongoing Fundraisers

Support our Sponsors

Sponsors of Austprem
a huge thank-you to those that support us - please support them

Help us to let others know about Austprem so that they too can feel understood and encouraged by the stories of others who have "been there".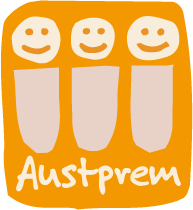 © Austprem Inc. All rights reserved
website: www.austprem.org.au
email: austprem@austprem.org.au
ABN 67 731 996 316