The Prem Journey | Austprem Ink | Resources and Links
First day of school 2006 -
Cooper and Kane, Jessica and Megan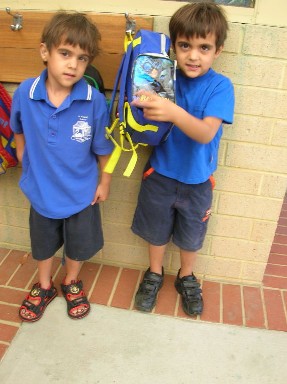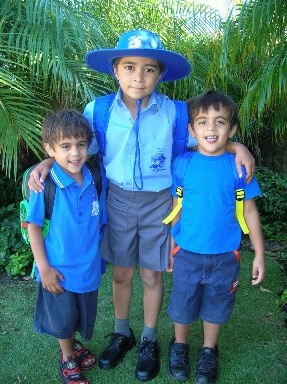 Cooper and Kane went to kindy together for the first time this year. Their Mum didn't sleep well the night before. It has been a very long road to get this far with the boys and you can read more about their journey on their website Both boys go to mainstream school on Wednesday and Fridays. On Tuesday and Thursday, Cooper goes to the Early Intervention Program for Autism and on those days Kane goes to the Early Intervention Program for Hearing Impaired children. So one very busy year in store for all.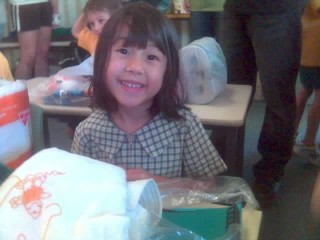 Jessica was born in April 2000 at 28 weeks and 5 days weighing 1.16 kg after I had sepsis and she was in distress. She had a pretty easy time in NICU and special care and it was just me that needed help. Her speech was delayed until age 2 she was diagnosed with glue ear and after a set of grommets she took off and now has very advanced language skills. Apart from that she has a little trouble sitting still and paying attention in class but hoping she will grow out of it this year with a little more maturity behind her. She started school a year early because her birthdate was a couple of months before the cut off and she was due in the second half of the year so I am pretty proud of how well she is doing for being one of the youngest in class.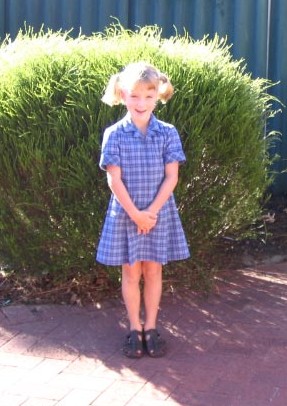 Hi everyone, my name is Megan and today was my first day of Grade 1 at Good Shepherd Primary School. I was really excited about it and didn't go to sleep until really late last night! I had such a great day. Most of my friends from pre-primary are in my class and my teachers are really nice. We also have swimming lessons in the afternoon after lunch which is great as I love swimming. My mum tells everyone how special I am because I was born 11 weeks early and weighed 900 grams but I have caught up to everyone my age, I now weigh just over 18 kilos. I will be 6 in March and can't wait for my birthday.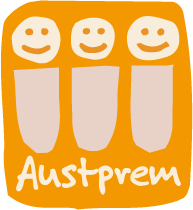 © Austprem Inc. All rights reserved
website: www.austprem.org.au
email: austprem@austprem.org.au
ABN 67 731 996 316