Moment by Moment
5% of each sale will be donated to Austprem Inc.
if you enter AUSTPREM at checkout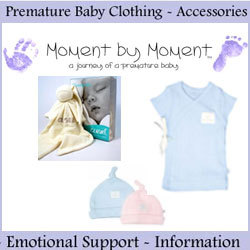 Moment by Moment is how you live your life when you have a premature baby.
Moment by Moment was born from experience and was passionately founded by the family of a 27weeker.
We stock NICU safe early birds premature baby clothing, cuski baby comforter, my tiny hands please wash signs, Dr Browns preemie bottles and teats., celebration plates, clothing up to size 0, books on Pre Eclampsia and HELLP Syndrome, signs and more.
Every item is wrapped with love and sized and chosen so it's just right for a premature baby because we know that an outfit that fits a prem baby can make Mummies day!! It's the smallest things like dressing your tiny preemie baby that can mean the world in a world you have no control over. If you know someone who has had a premature baby please direct them to this site for the appropriate clothing and products and if you're about to purchase them a gift buy the baby something that fits I guarantee they will cherish it forever.
Fiona
5% of each sale will be donated to Austprem Inc.
if you enter AUSTPREM at checkout

Everyone can support Austprem this way,
you do not need to be an Austprem member!
Other ways to support Austprem
Thank you for your support!